i have no idea what came over me, but one day i just decided 'o i might paint the kitchen!'
maybe it was the hormones (i am 6 months pregnant) or maybe it was the fact that hubby and i are painting the whole house anyway.. but that's another story.
so off to bunnings i went and enquired if it was possible to paint on laminate.. and was informed that it IS possible to paint on laminate AND tile! :D
so bought miself the following:
- tile and laminate cleaner
- tile and laminate primer
- laminate paint
theyre all the same brands and the lady suggusted i do the 3 step process (clean, prime and paint) otherwise, warranty will be void.
i actually do not have a before photo because i keep forgetting to take em... thanks to abby she keeps reminding me :)
here are some 'kind of' before photos:
so imagine the bottom cupboards in the same colour as top cupboards.
and window sills in lovely brown colour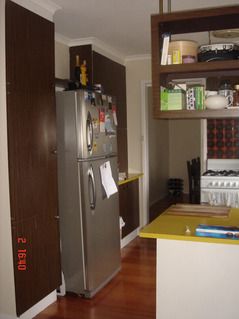 and after pics
the bottom cupboards were done with the laminate paint.. but the smell was just too much for a pregnant lady :) so i thought, 'hmm i wonder if normal paint works' (as we use water based paints for the house and has no smell at all). yes it does! the rest of the cupboards i used enamel paint.. and i thought they looked better than the laminate paint.
laminate paint gave a matt finish whereas enamel paint gave it a shine and is actually brighter and whiter.
my next project is to also paint the tile splashback.. so fingers crossed that works!
i would also like to change the yellow benchtop.. i haven't done any research on it yet.. but most probably we won't get an actual benchtop as we will be renovating the whole kitchen in the future so i'll probably just take the laminate top off and replace that.
but i probably won't be able to do anything until hopefully in the next month as I am quite over the kitchen!
I have actually moved on to the dining but i'll save that for another day :)