so as per my recent blog
85% done kitchen makeover
, i have moved over to the dining area. Surprise surprise! i actually have a decent before photo.
Before Photo of Dining: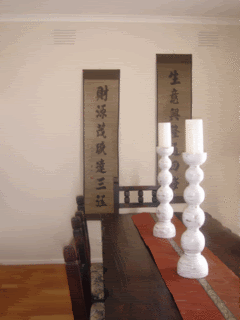 I kinda dont mind this room actually, but it just didn't feel like my taste. haha 'my' taste! sorry aaron, you dont get a say in this lol.
so i am now in the process of slowly changing things around.
i really wanted some sort of buffet in there to hold our nice cutlery, preferably with a built in wine rack too to replace our sad looking 9x9 two dollar rack. But because of the limited space (room is only 2.7m x 3.4m), normal sized buffets are just a tad too big.
so i have been on ebay non-stop trying to look for a buffet that measured no more than a metre n a half long with 35cm in depth, at the same time looking for new lamps for the master bed.. and whadoyouknow! i came across these lamps going for $29.95 for two plus $12 postage.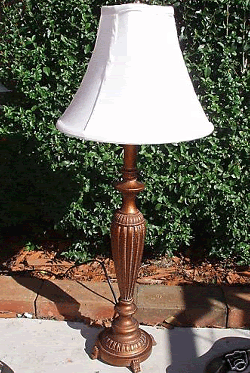 i showed abby my find and was threatened if i didn't hurry up she would grab it.. and so i got paranoid and bought it.. without reading the description "buffet lamps" :/
yes i know. i got too excited.. i didn't even realise they were buffet lamps until it arrived the next day and aaron told me they were too high and will be an effort to turn on and off while in bed :/
so i've got these beautiful lamps with no buffet table :/
a week later i found this wine rack for $10 and couldn't resist..
1. u can't go wrong with that price
2. i just had to get rid of our old wine rack and thought it'll just be temporary until i found a buffet with built in wine rack. and;
3. u really can't go wrong with that price
naturally i kept searching for buffet tables with wine rack built in that measures no more than a metre n a half in length, 35cm depth and didn't cost over 100.. askin too much u say? you're probably right coz i didn't find any.
i got over it but still wanted some sort of side table and found this for $45: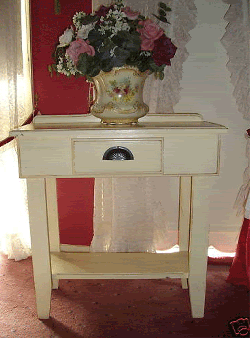 i bought it hoping the lamps would match.. but theyre much too tall for a little hall table :(
so yes i still havent found a home for these lamps.. i'm determined tho.. maybe they can go in the 'soon to be' tv room :)
i know i bought items that weren't on the agenda but what can i say i'm a cheapskate.
i also purchased new curtains for $59.95 from spotlight.
and how can i forget about the dining chairs.
upclose of old fabric:
fabric i will be using for reupholster (grey with leafy design):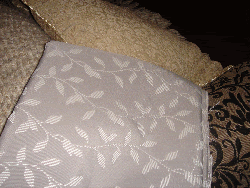 the other day i took one of the seats apart. it took me half an hour to unstaple the old fabric only to find out there's another layer of fabric to be unstapled!! grrrr! lucky the fabric was so old it was easier to rip em.
these chairs were that old, the foam would crumble in the slightest touch and the frame was all cracked!
so yesterday, i took aaron with me and went to bunnings to buy mdf board.. i am not going to do webbing as i am too lazy to do extra stapling plus i just don't have the tools to make the frame.
then to clark rubbber for the foam and wadding
aaron convinces me i should just get one for now in case it doesn't work.. i shouldn't have listened coz i laid everything last nite and it seemed ok.. and now i have to go back to bunnings and clark rubber to buy the rest!
stay tuned for the finished product as well as the after photo of the dining :)